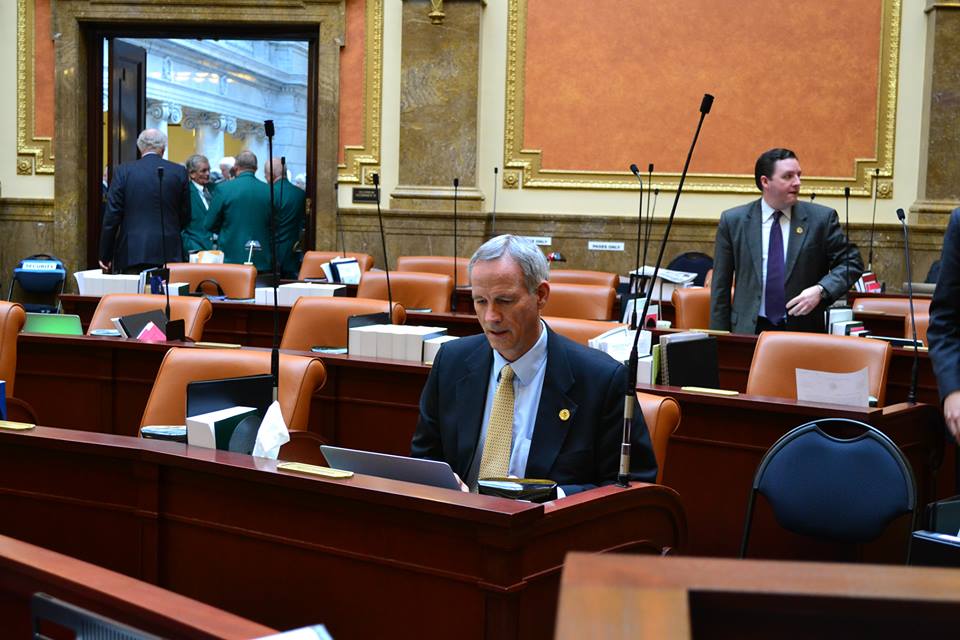 We're wrapping up week three of the 2014 legislative session here on the hill. This week we continued to meet in appropriations and standing committees, as well as debate House and Senate bills on the House floor. We spent time discussing the Utah School Readiness Initiative (HB 96), election laws (HB282), and a variety of other bills, including HB 283, a bill that enacts the Nonprofit Entity Receipt of State Money Act.
President Abraham Lincoln came and visited us and delivered a timely message.
The House honored former Representative Howard Nielson, Utah.
This last week the House of Representatives voted on HB 96 – "Utah School Readiness Initiative"  
It was a bill that attracted a lot of attention.  I received close to 300 emails, for and against this bill.  I also spoke with many people about the details of the bill and the pros and cons.  We debated the bill on the House floor for over an hour and amended it to improve the language.  The vote was 49 for and 24 against with 2 who did not vote.  As I read and studied the bill the following points stood out to me:
The bill is a 

free-market approach

 to solving a problem in the school system.  I have been working to get free-market forces to drive quality, service and cost reductions in government agencies and operations.  This was part of my campaign platform.  I think this program is a way to solve a problem privately, that has not been met yet in the schools.
It is a 

post-performance payment

.  This means that the private company is at risk for the results and will not be paid if they don't reach the objectives.   These companies are motivated to be successful.
It is 

voluntary

.  At the parents will, the student may be enrolled or not.
The bill will 

not cost more to the taxpayers

.  The money that is used is paid from the savings that are currently being used by Special Educations programs.  It may even save money for the State – worst case, it will be cost-neutral.
It 

results in improved performance

.  Many school kids are falling behind and have a tough time in their first years of grade school.  This approach has been tried in other schools and has been successful.  Weber State University, Utah State University and Brigham Young University all sent letters supporting this kind of educational opportunity for those who are from low-income and high-risk homes.   Weber & BYU have developed tests to identify students who would likely be at risk and need remedial help in the future.
The program is 

adapted to any school model

.  It can be used in home schools, private schools, charter schools as well as traditional public school settings.
I understand that there are risks in any program.  Some of you mentioned that it is similar to the Head Start Program and why do we need another program?  I look at it as less expensive to the State because if the students don't improve their performance, as expected, the provider of the program doesn't get paid.  I'm sure there may be some adjustments as the program develops.
HB 96 has been passed by the House but still has to be vetted by the Senate.  If there are concerns with areas of the bill it can still be amended before being voted on.  Please let me know if you can recommend other changes to the bill that would improve it.  I am more than happy to pass information on to the Senate as they vet the bill.  Also, please let Senators Madsen and Valentine know your thoughts.
H.B. 275 – Vietnam Veterans Recognition Day
Vietnam War Veterans being honored in the Utah House of Representatives Gallery.
This week the Utah House passed a bill that designates March 29 as Vietnam Veterans Recognition Day. Representative Oda sponsored the bill in an effort to honor those that served in the Vietnam War by creating a day in which all Utahns could show their gratitude for the Veterans' sacrifice.
I was also able to celebrate the birth of my grandson, Tyce.  He has an infection and is currently in the NCIU but is improving fast.  He should be home this weekend.
Be sure to contact me with any questions comments, or concerns. Your feedback and participation is always welcome.
Representative Kay Christofferson
Utah House of Representatives | District 56